Help your feet feel, look and smell better.
Compression Socks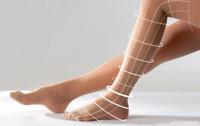 Compression Socks/Stockings
Medical Foot Solutions is proud to carry the SIGVARIS line of compression socks and stockings. The global leaders in the field of compression therapy and lymphatic disorders, all SIGVARIS socks and stockings include graduated compression technology that help with tired, aching, swollen legs, ankles or feet. This technology can also help with unsightly varicose veins and spider veins. The dedicated staff at Medical Foot Solutions are happy to help you find the best style and fit that suits your particular needs.
Price will vary according to compression and type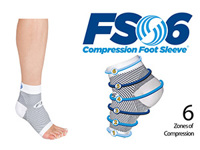 FS-6 Compression Foot Sleeve
If you suffer from plantar fasciitis, chronic heel pain, swollen arthritis ankles and feet or poor circulation, you need to get yourself a FS-6 Compression Foot Sleeve! Combining medial grade orthopedic support and patent pending Compression Zone Technology, this foot sleeve offers pain relief and prevention. It's designed for an easy-on fit and has six zones of graduated compression. Comfortable enough to wear all day long, the sleeve fits under most normal socks and shoes.
Price: $50 / 2 per box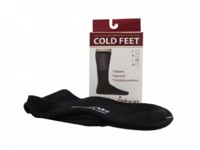 InfraCare Socks
Are your feet constantly cold and uncomfortable? Warm them up with the uniquely designed InfraCare socks. These socks are made of a special biomaterial, which is woven right into the fabric. This allows them to maintain a temperature 5-8*C above ambient temperatures. InfraCare socks are perfect for anyone who suffers from cold feet due to diabetes, Raynaud's or poor circulation. They also come in two different colours and four sizes.
Infracare Socks are made by a company based in Canada that specializes in supplying products to the medical community that are specifically designed for people with a common problem very familiar to Raynaud's sufferers – cold hands and feet.
Price: $25 / a pair
Custom Orthotics
All feet are not made the same, so all our orthotics are designed for your unique feet. On-the-shelf Orthotics that are purchased in pharmacies or stores without being specifically designed for your feet can cause more problems down the road. That's what makes custom plaster cast orthotics integral to the treatment and care of a number of foot-related issues. Following plaster casting of each foot, we will take a 3D, volumetric scan image of your foot, and create your orthotics in a certified laboratory. Custom orthotics will help relieve your painful feet. Talk to our expert team of Chiropodists today about what we can do for you and your feet.
Prices vary
Foot Care Products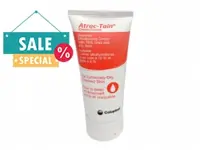 Atrac-Tain Cream
If your feet are dry, scaly, calloused or cracked, Atrac-Tain is exactly what you need. This moisturizing cream softens and exfoliates your feet. Atrac-Tain Cream is also fragrance and preservative free. Price reflects 15% off the regular price of $20 for the month of October.
Price: $17 / tube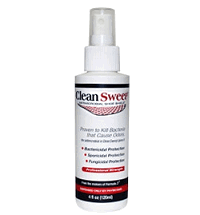 Clean Sweep™
Shoe odour affects not only you, but those around you as well. Kill bacteria and neutralize shoe odour with Clean Sweep™. Clean Sweep™ is a safe and all-natural spray that can be used daily to help keep your work boots, running shoes or your favourite pair of shoes from stinking up the vicinity that they are in. Clean Sweep™ is also non-toxic, hypoallergenic, environmentally safe and contains no fragrance or colours. Regular price = $18 - Our April SALE is on now.
Price: $18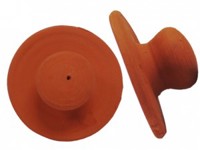 Kupastones
Looking for a natural way to remove callouses and keep up on your foot maintenance? Then grab yourself a Kupastone. Handmade, long-lasting and versatile, this pumice stone can help keep your feet looking and feeling their best.
Price: $10
Nail Care Products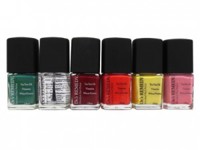 Dr.'s Remedy: Enriched Nail Polish & Treatment
Step up your nail polish with Dr.'s Remedy over-the-counter Nail Polish. This unique blend has been infused with naturally occurring elements, such as tea tree oil, garlic-bulb extract, wheat protein and Vitamins C and E. Created by doctors, this enriched nail polish will strengthen and protect your nails from fungus, discolouration and cracking. It also comes in a variety of amazing colours.
Price: $18
For a complete nail treatment we also carry a cuticle oil ($12), a nail hydration to prevent cracking and splitting ($18) and a nail polish remover ($10)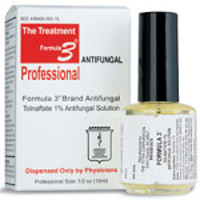 Formula 3 Professional
Formula 3 is a compounded, topical treatment used to combat toenail fungus. It's the only oil-based, antifungal treatment on the market. The unique formula penetrates the nail plate to help eliminate toenail fungus. It's odorless, doesn't leave any residue, requires no drying time and a bottle can last 3-6 months depending on the number of affected toes. Formula 3 also comes with an unconditional money back guarantee provided by its makers.
Price: $60
Pain Management Products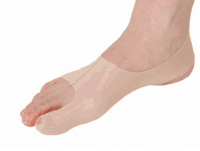 Bunion Aligner
Bunions can be painful and cause discomfort throughout your day. To combat this problem, pick up this ultra-thin Bunion Aligner. Made of a special material with an incredible name, Power Net, the Buion Aligner gently re-aligns the big toe towards its more natural position. It's easy to put on and remove, and is made of materials that are breathable and comfortable.
Price: $60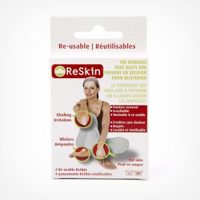 Re-Skin
Blisters are a common occurrence that can cause irritation and constant pain. Fight back against that pain with Re-Skin. Re-Skin is a re-usable bandage made from an extremely high-quality Lycra weave material on one side, and a special silicone skin technology adhesive on the other. Re-Skin helps your skin to recover from blisters, while also helping to prevent them. It's breathable, washable and can be cut into shape to fit any size foot.
Price: $16