HyProCure ®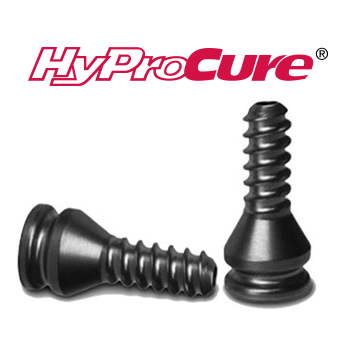 HyProCure® – A Permanent Solution to Flat Feet
HyProCure® is a titanium stent that is placed in the sinus tarsi to help prevent it from collapsing and stabilize the ankle bone.
The HyProCure® procedure may sound intense, but it's minimally invasive and is typically performed under local anesthesia. Medical Foot Solutions are currently the only clinic in Ontario that is certified to preform this procedure.
There is a naturally occurring space in between your ankle and heel bones. This space is called the sinus tarsi. When your feet are properly aligned, this space stays in a constant open position. If your feet are misaligned, the sinus tarsi collapses when weight is applied to the foot when running, jumping or even just walking. This problem is quite common, but under-treated, and it affects people of all ages around the world. If your feet are misaligned, then your knees, hips and back will follow suit. This common condition causes a variety of painful issues that can cause adverse symptoms and side effects. Luckily, there is something to help correct this ailment!
HyProCure® can help you get back to feeling normal
The HyProCure® procedure instantly realigns and stabilizes the hindfoot, while also allowing normal joint range of motion. The overall balance and alignment of your foot and ankle will be improved. The arch on your foot may also appear to be straighter than before. Most patients are up and walking normally within a few weeks, and your bones, tendons and ligaments throughout your foot will continue to adapt to the new corrected alignment over the following several months.
Contact the professionals at Medical Foot Solutions today to find out more about HyProCure®.
---
---
Related Foot notes