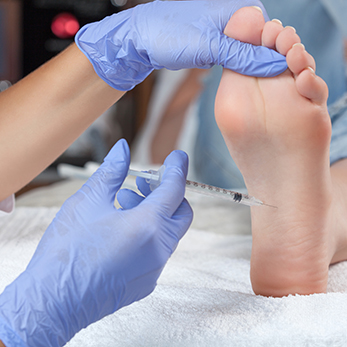 Cortisone Injections for Your Feet
There are many treatments designed to eliminate or reduce pain in your feet. You may benefit from physiotherapy, be prescribed some form of medication, have custom orthotics made just for you, or if the problem is severe enough, undergo surgery.
What is Cortisone?
Cortisone is a common anti-inflammatory steroid that is extremely effective at relieving inflammation and its associated pain. Cortisone is a synthetic version of cortisol, which is a hormone that is naturally produced in the body. Cortisone is considered safe and highly effective at relieving inflammation.
Cortisone injections are often used to help treat heel pain, Morton's neuroma, and plantar fasciitis, three foot-related issues in which inflammation causes pain and reduces mobility. The injection is administered using a needle at a specific point in the body, most often injected into the area that is most painful, or with the most inflammation. If a specific point of tenderness cannot be identified, cortisone is not the best course of treatment.
What You Should Know About Cortisone Treatments
Cortisone injections are an effective way to offer temporary relief from pain and discomfort caused by inflammation and are sometimes used as a part of a larger treatment strategy. The injections can suppress localized inflammation between six weeks to six months. Depending on where the injection site is, patients may experience some pain from the injection itself, and this reaction differs from patient to patient. However, the relief that cortisone treatments provide outweigh any pain you may experience from the injection itself.
How to Prepare for a Cortisone Injection
Cortisone injections are performed in-office and take only a few minutes to administer. Generally, the cortisone is combined with a long-acting local anesthetic resulting in an immediate relief from the pain. You should let your chiropodist know if you've been ill or have had a temperature over 38 °C (100.4 °F) in the last few days.
Cortisone Injections - After Care
After you've had a cortisone injection, we recommend:
Protecting the injection site for a day or two by staying off your feet as much as you can.
Applying ice to the injection site to relieve any pain. Don't use heat.
Don't use a bathtub, hot tub or whirlpool for a few days. It's completely fine to take a shower.
Keep an eye on the injection site. Look for any signs of infection and pay attention to any increased pain, redness or swelling that lasts for more than 48 hours. If this occurs, contact our office immediately.
Results from the Cortisone Injections
On occasion, you may experience a flareup in inflammation or pain for up to 48 hours after your cortisone injection (due to the physical volume of medicine that has been injected), but after that, if everything has gone according to plan, your pain and inflammation in the foot will decrease.
Cortisone injections can work wonders for many people, but they are not a panacea. Cortisone works best when the pain is caused by inflammation and a specific site of tenderness can be identified. Talk to the dedicated chiropodists at Medical Foot Solutions to see if a cortisone injection is the right treatment option for you. Contact us today and help yourself and your feet get back to feeling normal.