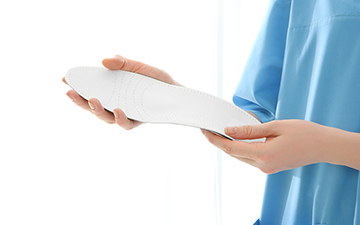 How to Care for Your Custom Orthotics
For many of our patients, custom orthotics are an important part of daily life. Using custom orthotics can reduce pain or discomfort in your feet, legs, hips or lower back. While most private insurance plans fully or partially cover the cost of custom orthotics, they are ultimately an investment in your health, one that's worth taking good care of. These tips will help you care for your customer orthotics to ensure they last.
Cleaning Your Orthotics
We recommend using mild soap and water to wipe your orthotics clean and then letting them dry at room temperature. If your orthotics develop a strong odour that can't be eliminated with cleaning and drying, then it may be possible to replace the top covers, which is an affordable and simple process that takes just a few days.
Caring for Children's Orthotics
We care for many pediatric patients and offer several special orthotics for children and adolescents. Custom orthotics for children can be cleaned and cared for just as you would your own.
What to Do If Your Orthotics Get Wet
Many customers ask us if their custom orthotics are waterproof. While they are water resistant, they are not waterproof. The top covers and other soft components of the orthotics will absorb water and the adhesives holding them together may delaminate if exposed to water, so don't use your orthotics while swimming! However, if they do get wet, take them out of your shoes and let them dry at room temperature. Avoid putting them in the dryer, exposing them to high heat or direct sunlight.
How Long Do Custom Orthotics Last?
With proper care, your orthotics should last three to five years. While the shell (the firm plastic part) typically won't crack or break during this time, it can fatigue and may require replacement. If this happens please talk to us about a replacement discount. Top covers and other soft components of the orthotics wear at varying rates and are easily and inexpensively replaced.
With that lifespan in mind, it's important to note that if you feel discomfort or pain from your orthotics then we need to know! Orthotics may feel a bit strange when you first get them, but they should never cause pain. If you followed the break-in instructions given to you when you got your orthotics and are still experiencing discomfort, please call us to book a follow-up appointment.
Custom orthotics sometimes require adjustments to ensure they work comfortably. Adjustments are free of charge for the first six months. Although we can't guarantee 100% resolution of all your symptoms, we do guarantee that your orthotics will work comfortably. Our team commits to working with you to achieve a satisfactory and comfortable outcome. If we can't, Medical Foot Solutions will refund your money.
Questions about your custom orthotics? Wondering if custom orthotics would help relieve the pain you're experiencing? We encourage you to give our team a call to set up a consultation with one of our chiropodists.